Our Food contributor, Eva Burg from The Healthy Tart is with us today with a fresh and vibrant summer salad, perfect for this warmer weather.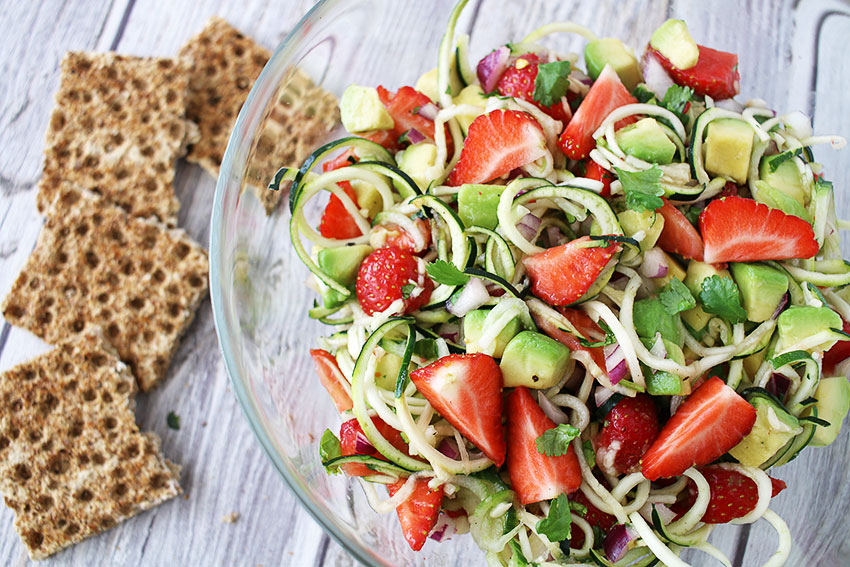 This courgette, avocado and strawberry salad and the purchase of a spiralizer have quickly changed my view on salads.
Unfortunately, I have to admit that I am not a big fan of salads, I do like them as a side dish but as a main, I always felt like something was missing. Therefore, I usually over-ate on bread or whatever was served along with it.
Without a doubt, there are loads of tasty salad recipes out there but personally, I still prefer my veggies.
At the moment it is strawberry and rhubarb season in Ireland and I am using both, left, right and centre! Most people don't realise that fruits go fantastic with salads as they provide sweetness and acidity. Of course, you can also use them in more traditional recipes like my Strawberry Rhubarb Crumble Squares or Rhubarb Strawberry Smoothie.
Why I love my spiralizer
When Mr Healthy Tart got me a spiralizer for my birthday, I was over the moon. Finally, I had found an easy way to turn my veggies into a salad.
Even though they are technically still veggies, I feel like I gained access to a completely different world. For ages, I had been saying that I don't need a spiralizer, that I could grate everything just as easily, but well, very soon I'd proved myself wrong. It is so much more fun and you don't risk ruining your nail polish or losing your fingertips on a traditional grater.
Furthermore, those salads look very appealing and are real conversation starters. Everyone seems to be smitten with those pretty vegetable noodles.
Try something new
Why don't you surprise your friends with potato chip spirals on a skewer or serve vegetable pasta? Here is one of my favourite recipes, Zucchini Noodles With Tomato Vegetable Sauce.
I guess there are many more spiralized recipes to come!
As a result, this particular salad with its mix of sweet and sour flavours has quickly turned into my summer favourite.
Your turn
Let me know how you feel about spiralizers in the comments!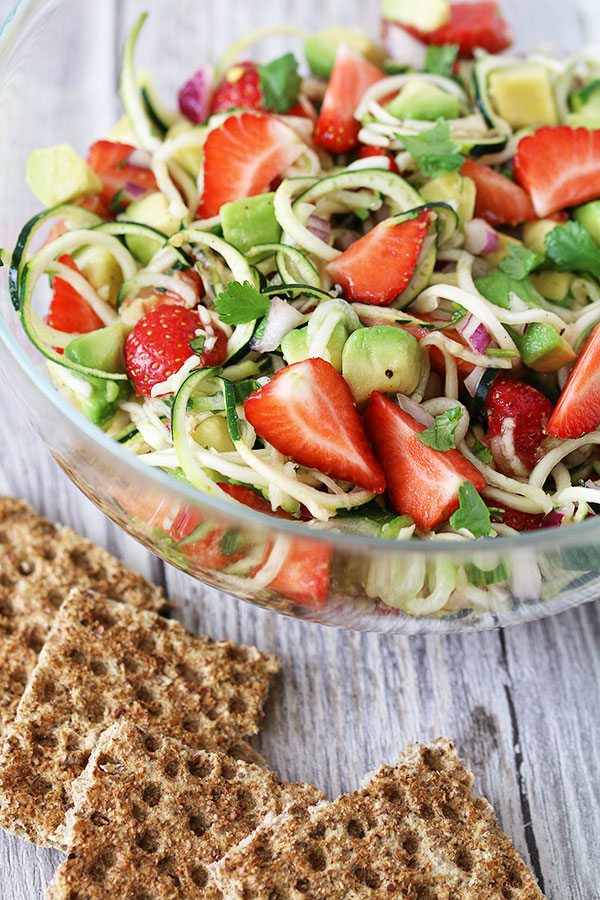 Courgette, Avocado And Strawberry Salad
Prep Time
10 mins
Total Time
10 mins
Ingredients
1 courgette
1 1/3 cups fresh strawberries hulled and chopped
1 very ripe avocado diced
1 tbsp fresh coriander chopped
1 jalapeño pepper deseeded and finely chopped
1/4 cup red onion finely chopped
1 teaspoon honey or maple syrup to keep it vegan
Juice of 1 lime
Salt
Pepper
Instructions
Place the courgette into your spiralizer and cut it into medium thick noodles.

In a large bowl, combine courgette noodles, hulled and chopped strawberries, diced avocado, chopped coriander, jalapeño, and red onion.

In a small bowl whisk together the honey or maple syrup, lime juice and season it with salt and pepper.

Pour the dressing over the salad and toss with the courgette mixture to combine.
Note from the Editor
We don't have a spiralizer yet so we had a quick look on Amazon to see what they'd set us back – and we were pleasantly surprised!
The post Courgette, Avocado and Strawberry Salad appeared first on The Healthy Tart. Re-published here with permission.